Why Ricardo's Theory of Comparative Advantage Regarding Foreign Trade Doesn't Work in Today's Global Economy
Keywords:
Global Trade, Comparative Advantage, Labor Arbitrage, Technology Transfer, Industrial Policy
Abstract
This article first analyzes Ricardo's theorem, not just his argument in favor of comparative advantage, but also the conditions that are necessary for the theory to work, namely, that capital is loyal to the country of origin and that currencies will adjust to level out imbalances in trade. It then traces the flow of foreign direct investment into China and the basis for that flow – cheap labor. It then analyzes China's manipulation of the yuan and the changes in the relative valuation of currencies. The next section of the article addresses China's entry into the World Trade Organization and its failure to live up to its agreement to move to a market-based economy. China's reliance on state owned enterprises, its subsidization of export and high-tech industries, and its direct and indirect coercion of technological transfer and know-how from the U. S. and other countries – all stand in opposition to the principles to which other countries have agreed in connection with their participation in the World Trade Organization. A critical factor that is not been understood in connection with global trade is that the transfer of dual-use technology to China also carries with it national security implications. The next sections look at forced technology transfer and China's military goals, including its policy to be both industrially and militarily self-sufficient, something United States needs to be likewise. This leads to a discussion of industrial policy. China has clearly articulated its industrial policy and the steps that it will take to implement it. The United States cannot afford, either from the standpoint of providing good paying jobs for its citizens, or from the standpoint of being a leader in research and development, or from the standpoint of national security, to be dependent upon products originating from, or supply chains running through, other countries – particularly when such countries are hostile to the United States. The conclusion asserts that Sen. Rubio's "Made in China 2025 and the Future of American Industry" may be the opening of a critically necessary dialogue on the need for, and nature of, an industrial policy for the United States. Just relying upon the mantra that free trade benefits all, and supporting such mantra on the basis that it is "proved" by Ricardo's theorem of comparative advantage, is to put our head in the sand and ignore the evidence set forth in this article.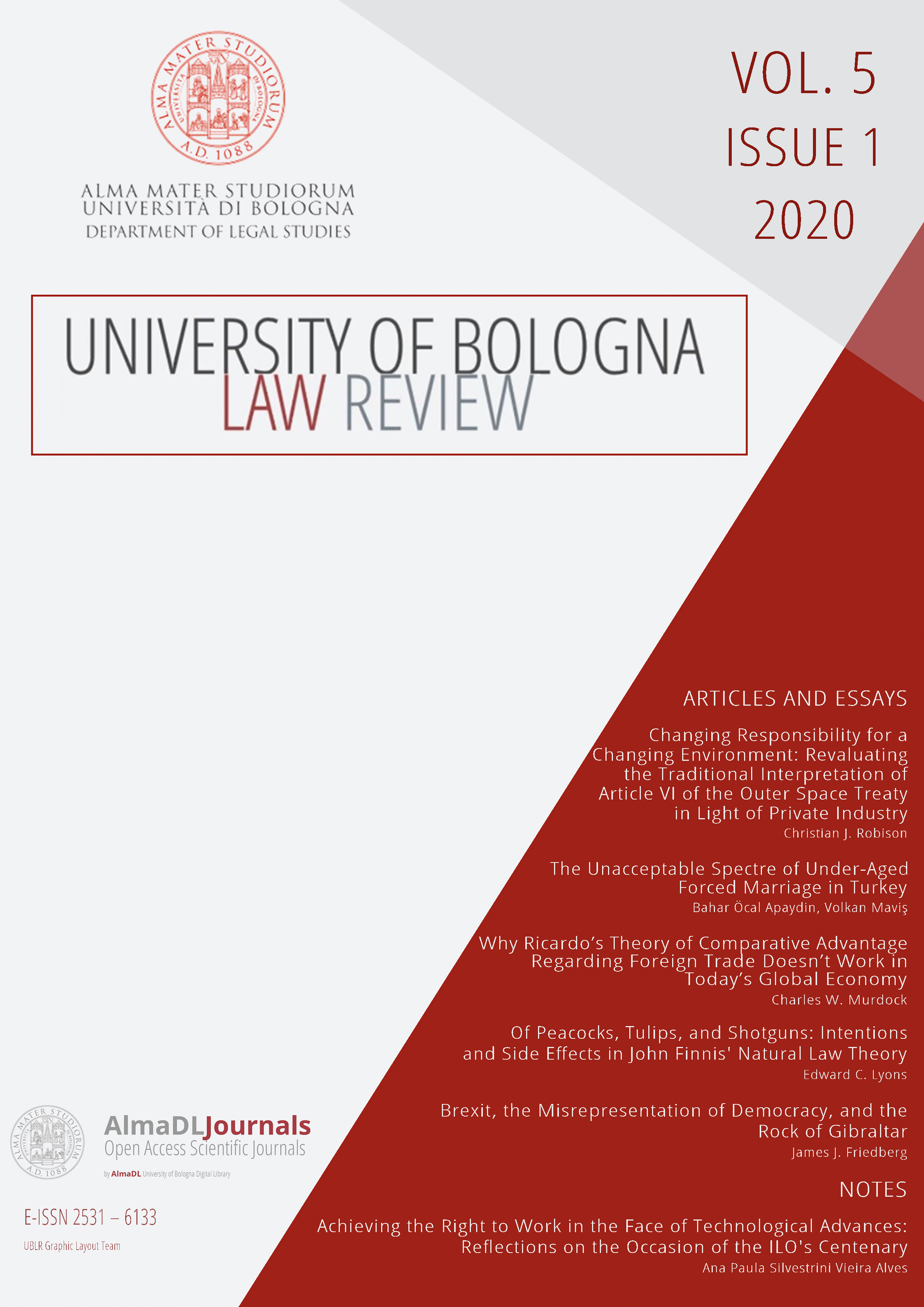 Downloads
How to Cite
Murdock, C. W. (2020). Why Ricardo's Theory of Comparative Advantage Regarding Foreign Trade Doesn't Work in Today's Global Economy. University of Bologna Law Review, 5(1), 59–130. https://doi.org/10.6092/issn.2531-6133/10881
Section
Articles & Essays
License
Copyright (c) 2020 Charles W. Murdock
The copyright of all the manuscripts on this journal belongs to the respective authors.
This journal is licensed under a Creative Commons Attribution 4.0 International License (full legal code).
See also our Open Access Policy.