Law in a Time of Corona: Global Pandemic, Supply Chain Disruption and Portents for "Operationally‐Linked (but) Legally Separate" Contracts
Keywords:
Contract Law , Force Majeure, Supply Chain, Covid-19, Incomplete Contract
Abstract
The novel coronavirus (Covid-19) pandemic has resulted in the disruption of activities in major centres of global production, with adverse portents for contractual obligations across global supply chains. The global pervasiveness and dynamic propagation of the risks arising from contractual failures provides an opportunity to reconsider the nature and impact of mechanisms for excusing failure to perform contractual obligations under adverse circumstances (Excuse).
Such mechanisms include those found in the general law (for example, frustration in common law and analogous doctrines in civil law traditions) and contractual clauses (for example, Force Majeure and hardship clauses). Establishing extant rights and obligations under current contracts may provide only limited illumination on how parties will address these failures. Principles in economics of contract (e.g. incomplete contract and transaction cost theories) and the commercial reality of global supply chains both suggest that parties tend to lean towards contract- and relationship-saving adjustments, rather than strict enforcement of rights. Therefore, this article analyses the doctrinal and contractual regimes of Excuse with a view to assessing their respective scopes for transaction and relationship saving. It also highlights the peculiar nature of supply chain relationships wherein exchange partners enter into a sequence of dyadic relationships aimed at delivering a good or service to the end user. The tension between that operational logic and the legal principle of privity of contract makes these relationships – undergirded as they are by what we call "operationally-linked (but) legally separate" (O.L.L.S.) contracts – peculiarly vulnerable to mismatches in their Excuse regimes. Mismatches occur where failure to perform a determinant contract is more easily or much earlier excusable than in a dependent contract within the same chain operation. This may, in turn, exacerbate risks of supply chain disruptions in a pandemic scenario. The article designs a framework by which the doctrine-contract complex in the regimes may be used to test the dynamic scenarios of a global pandemic for the purpose of scanning for such mismatches. This framework will be useful in both post-event circumstances, as parties embark on relationship-saving negotiations, and in designing ex ante risk management measures. Through the understanding of the peculiarity of supply chain relationships and the O.L.L.S. contracts, this article also proposes to open up new directions in which the insights therefrom might be useful. An example suggested and prefatorily explored in this article is in the "governance beyond privity" conundrum in the context of supply chain disruption. Another is its potential contribution to the emerging multifactorial approach to determining frustration of contract in some common law courts.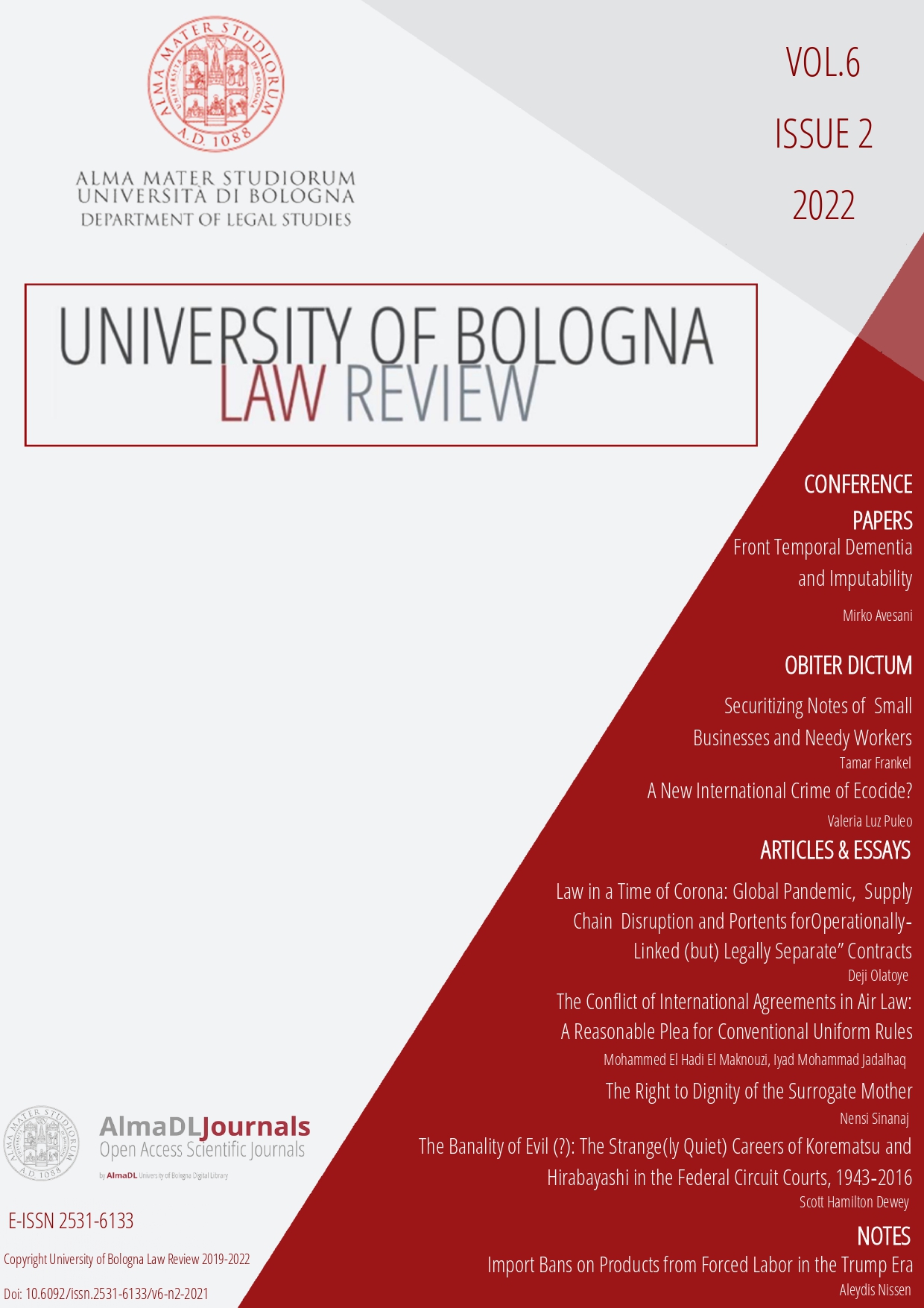 Downloads
How to Cite
Olatoye, D. (2021). Law in a Time of Corona: Global Pandemic, Supply Chain Disruption and Portents for "Operationally‐Linked (but) Legally Separate" Contracts. University of Bologna Law Review, 6(2), 171–238. https://doi.org/10.6092/issn.2531-6133/14076
Section
Articles & Essays
License
Copyright (c) 2021 Deji Olatoye
This work is licensed under a Creative Commons Attribution 4.0 International License.