The Unacceptable Spectre of Under-Aged Forced Marriage in Turkey
Keywords:
Forced Marriage, Child Marriage, Women's Rights, Consent
Abstract
In many respects, Turkey is an exception among Muslim countries. Whilst being a secular democratic state, Turkey still struggles, however, with some remnants of its religious and socio-cultural heritage. The issue of forced marriage of children is one of those issues. Marriage is commonly defined as a union concluded by parties with their full and free consent. If consent is lacking, a forced marriage occurs. In the case of a forced marriage, consent is lacking because one of the prospective spouses does not give her/his consent freely, or sometimes because she/he is incapable of giving consent because of her/his age. As a founding member of the Council of Europe, Turkey not only ratified the European Convention on Human Rights (ECHR) in 1954 and Protocol Nr. 1, but it has also ratified many of the core international documents on human rights and the rights of children, such as the U.N. Convention on the Rights of the Child, the U.N. Convention on the Elimination of All Forms of Discrimination against Women. Nevertheless, the forced marriage of children is still a prevalent social problem in Turkey, and in the majority of cases, girls are the victims of such practices. This article examines the factors behind the forced marriage of children in Turkey, while exploring the current legal background and Turkey's international legal commitments to fight against such practices. Finally, the article suggests the reinforcement of available legal remedies in order to prevent the forced marriage of children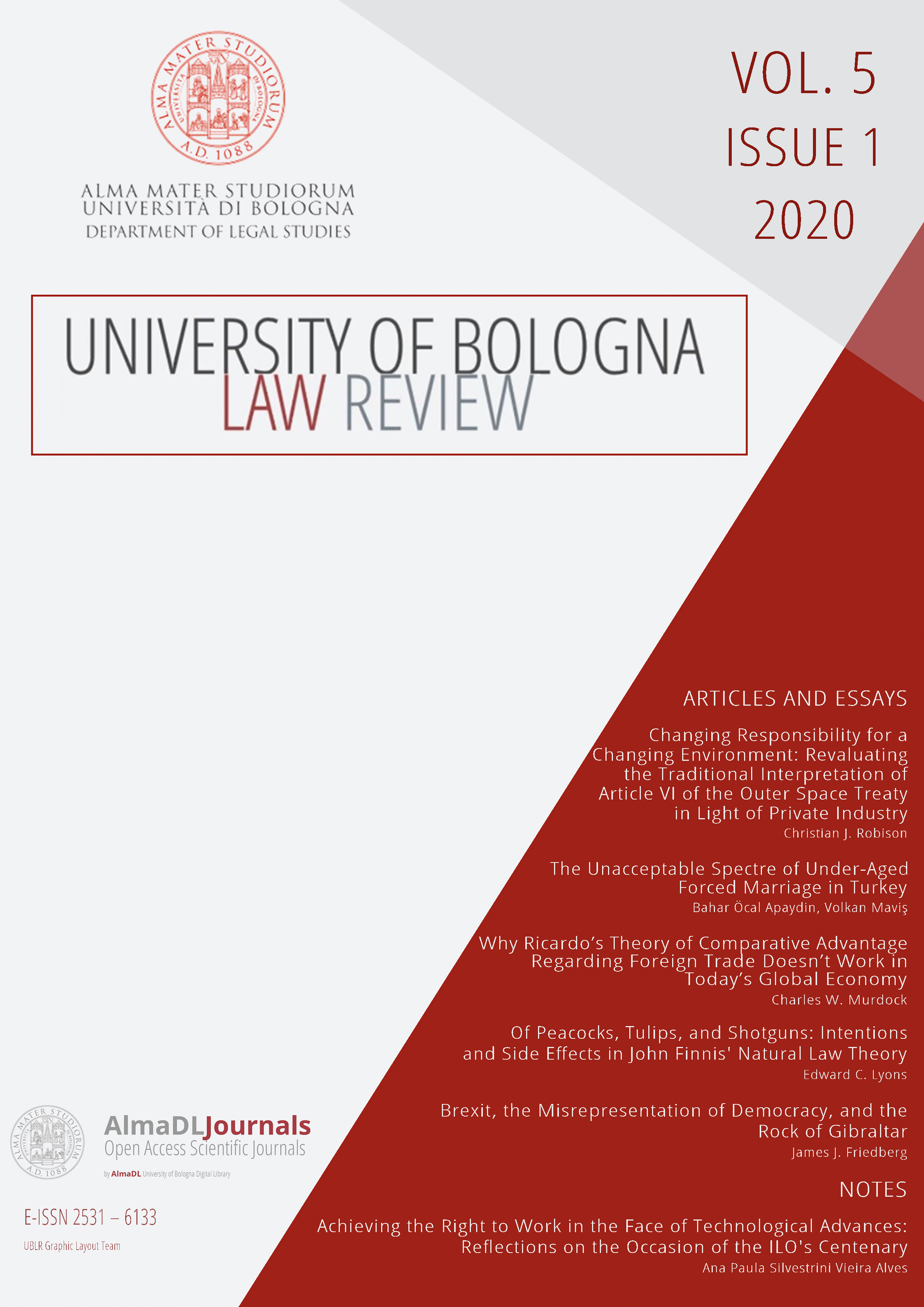 Downloads
How to Cite
Öcal Apaydin, B., & Maviş, V. (2020). The Unacceptable Spectre of Under-Aged Forced Marriage in Turkey. University of Bologna Law Review, 5(1), 28–58. https://doi.org/10.6092/issn.2531-6133/10967
Section
Articles & Essays
License
Copyright (c) 2020 Bahar Öcal Apaydin, Volkan Maviş
The copyright of all the manuscripts on this journal belongs to the respective authors.
This journal is licensed under a Creative Commons Attribution 4.0 International License (full legal code).
See also our Open Access Policy.