The Eras of Extraterritoriality in the United States
Keywords:
Extraterritoriality, International Comity, Regulatory Tool, Citizenship, U.S. Constitution
Abstract
This article uses the research from Kal Raustiala's book, Does the Constitution Follow the Flag? : The Evolution of Territoriality in American Law, and the research from several of my articles on extraterritorial applications to explain how the United States has used the regulatory tool, extraterritoriality, since the time of the American Founding and how such use has differed as the United States gained power. The manner by which the United States has relied on extraterritoriality has differed depending on a particular era of history. For instance, this article articulates five eras that have characterized the U.S. decision-making process for extraterritoriality: cautionary, progressive, indiscriminate, withdrawal, and arbitrary. The United States within each era has embraced certain customary principles more than others such as sovereignty, territorialism, international comity, and global constitutionalism. Its reliance on these principles is volatile and changes in each era. What is remarkable is the extent to which the United States has and has not considered international issues as a part of its practice of utilizing extraterritoriality. As a young nation, the United States greatly clung to notions of sovereignty and territorialism and eschewed extraterritoriality because it was not strong enough to exert such power nor could it handle an invasion from another foreign power. Sovereignty and territorialism gave the United States the peace of mind and security against an uprising. International considerations were prominent and commonplace in the early eras. But as the nation grew in strength throughout each successive era, it no longer needed the bedrock of sovereignty and territorialism to safeguard it from other foreign powers. The United States instead sought to inject its laws extraterritorially and engage in global policing. Its rise in economic and political power gave it the strength to do so. Extraterritorial regulation was on the rise. However, the more its use of extraterritoriality rose, the more domestic struggles the United States encountered, which led to arbitrary judicial decisions and policy-making. Further, during the later eras, the United States relied less and less on international considerations and engaged in withdrawal tactics, causing some to view its behavior as hegemonic. There is a great imperative of examining history with the law. How U.S. history and politics can inform the future of the law is critical. The findings laid out within this article will serve a starting point for future research regarding potential future eras.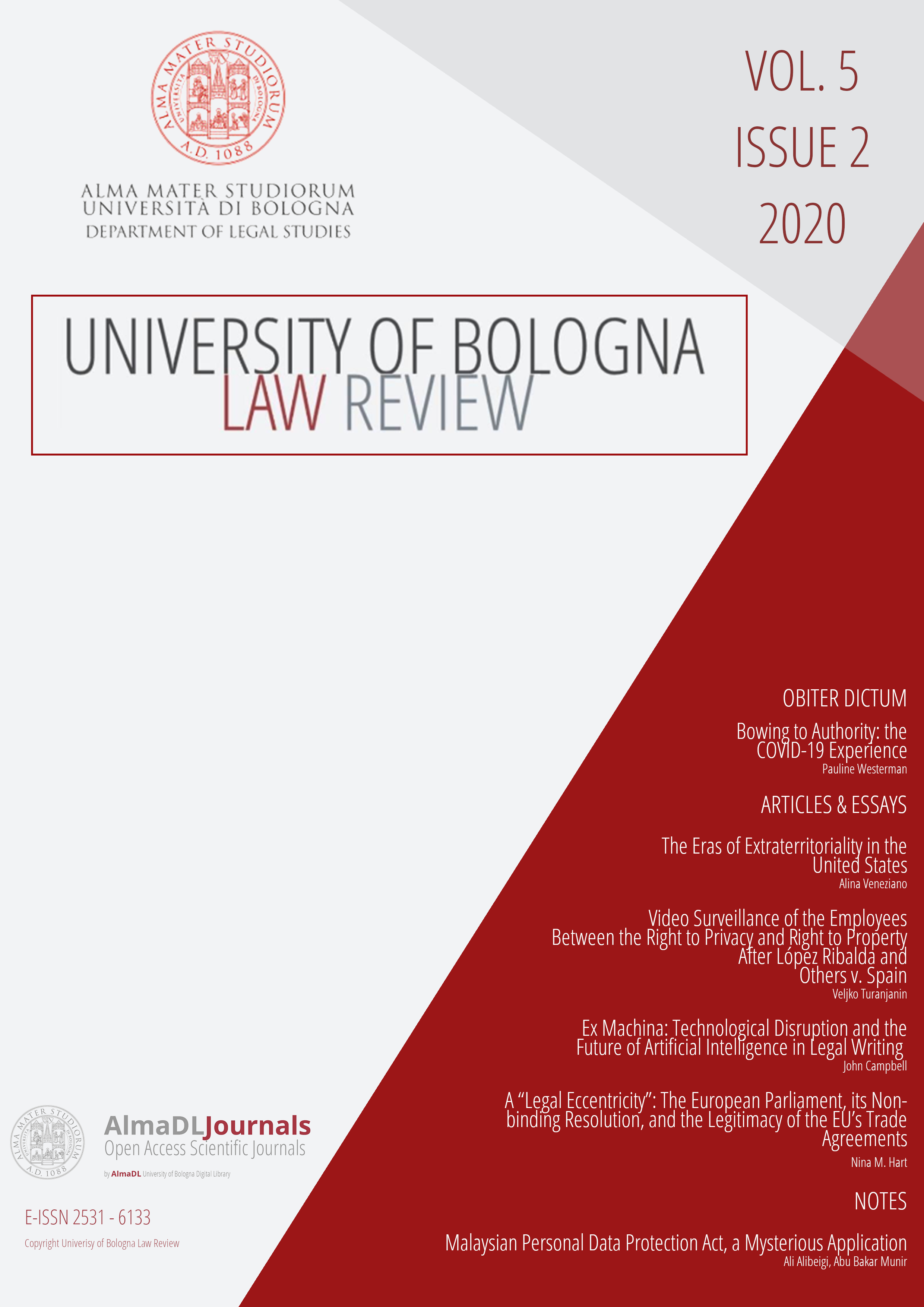 Downloads
How to Cite
Veneziano, A. (2020). The Eras of Extraterritoriality in the United States. University of Bologna Law Review, 5(2), 240–267. https://doi.org/10.6092/issn.2531-6133/11542
Section
Articles & Essays
License
Copyright (c) 2020 Alina Veneziano
This work is licensed under a Creative Commons Attribution 4.0 International License.