The Right to Dignity of the Surrogate Mother
Keywords:
Human Dignity, Self-Determination, Contractual Freedom, Non-Discrimination, Exploitation
Abstract
This article explores a different perspective on the right to dignity of the surrogate mother in commercial surrogacy arrangements under international human rights norms and philosophical principles. Here, I examine the concept of human dignity under the lenses of contemporary legal theory reflecting on the right to self-determination of the surrogate mother. This dignity-based approach serves for analysing how International Human Rights Law enables women to enter commercial surrogacy agreements on the basis of their contractual freedom, their reproductive rights, on the prohibition of non-discrimination and their labour rights. Under the lenses of economics and law, I examine how this practice carries the potential to empower the economic emancipation of women and their access to the labour market. Dignity as rights-constraining will reflect on the other side of surrogacy. I investigate the exploitative character of this practice and how it could present human rights abuses for the surrogate mother. Specifically, I focus my analysis on how surrogacy contracts could violate the bodily autonomy of the surrogate and potentially maintain gender inequality and reinforce gender stereotypes. After recognizing certain concerning aspects of individual surrogacy arrangements, I question whether outlawing surrogacy is the right response to this practice.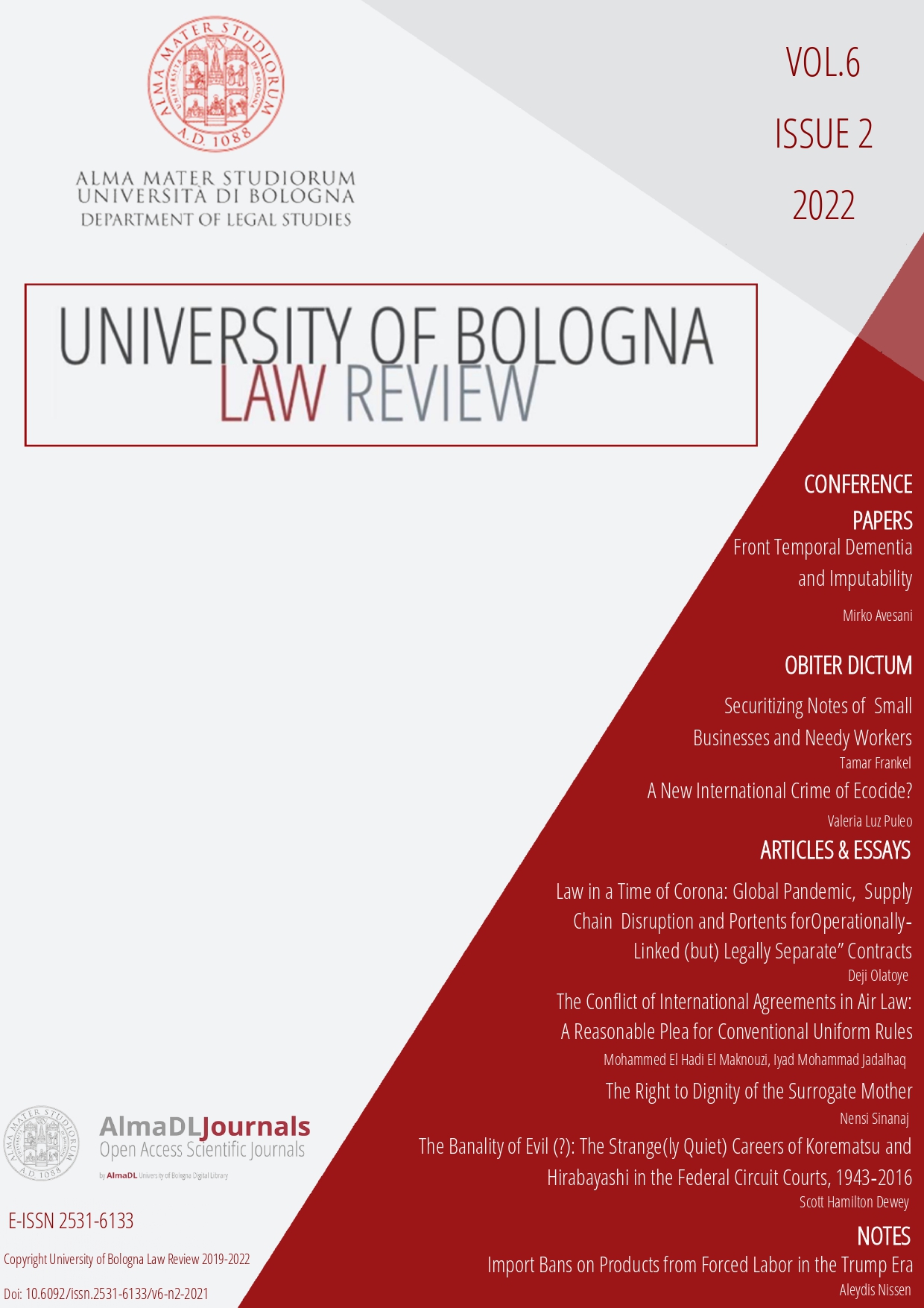 Downloads
How to Cite
Sinanaj, N. (2021). The Right to Dignity of the Surrogate Mother. University of Bologna Law Review, 6(2), 261–286. https://doi.org/10.6092/issn.2531-6133/14253
Section
Articles & Essays
License
Copyright (c) 2021 Nensi Sinanaj
This work is licensed under a Creative Commons Attribution 4.0 International License.