The Banality of Evil (?): The Strange(ly Quiet) Careers of Korematsu and Hirabayashi in the Federal Circuit Courts, 1943‐2016
Keywords:
Korematsu, Hirabayashi, Law of the United States, United States Federal Court, Japanese American Internment
Abstract
Korematsu v. United States (1944) and Hirabayashi v. United States (1943), the most famous Supreme Court cases associated with the tragic internment of Japanese Americans during World War II, now "live in infamy", along with the likes of Plessy v. Ferguson and Scott v. Sandford, among the worst constitutional law train-wrecks of American legal history. Ironically, American courts and judges also used the two towering internment cases for their resounding language supporting racial equality and non-discrimination. In either guise, the cases came to cast a long shadow over America's legal landscape. Thus, it may be somewhat surprising to discover that these two cases long led rather mundane and limited precedential lives in the federal circuit courts, serving repeatedly as precedents in ordinary cases concerning everyday applications of criminal procedure doctrines and displaying little of the brightly hopeful or darkly ominous power for which they would later be known. Whatever greater potential the two cases held, a careful tracking of all uses of the cases in court opinions shows that federal circuit courts mostly did not explore that potential until after it was "safe" to do so. In particular, although the Japanese Internment was fundamentally a legal and constitutional problem, federal courts proved to be largely unable to confront that problem meaningfully until after some sort of political "solution" was offered by Congress through formal apology and reparations to internment survivors in 1988. Only later did federal circuit judges use the two cases more aggressively, with Korematsu suddenly serving as a dire warning of the dangers of judicial reticence in resisting constitutional overreaching by the legislative or executive branches, while Hirabayashi was brandished to support strict, color-blind racial equality—long after civil rights progress was already waning.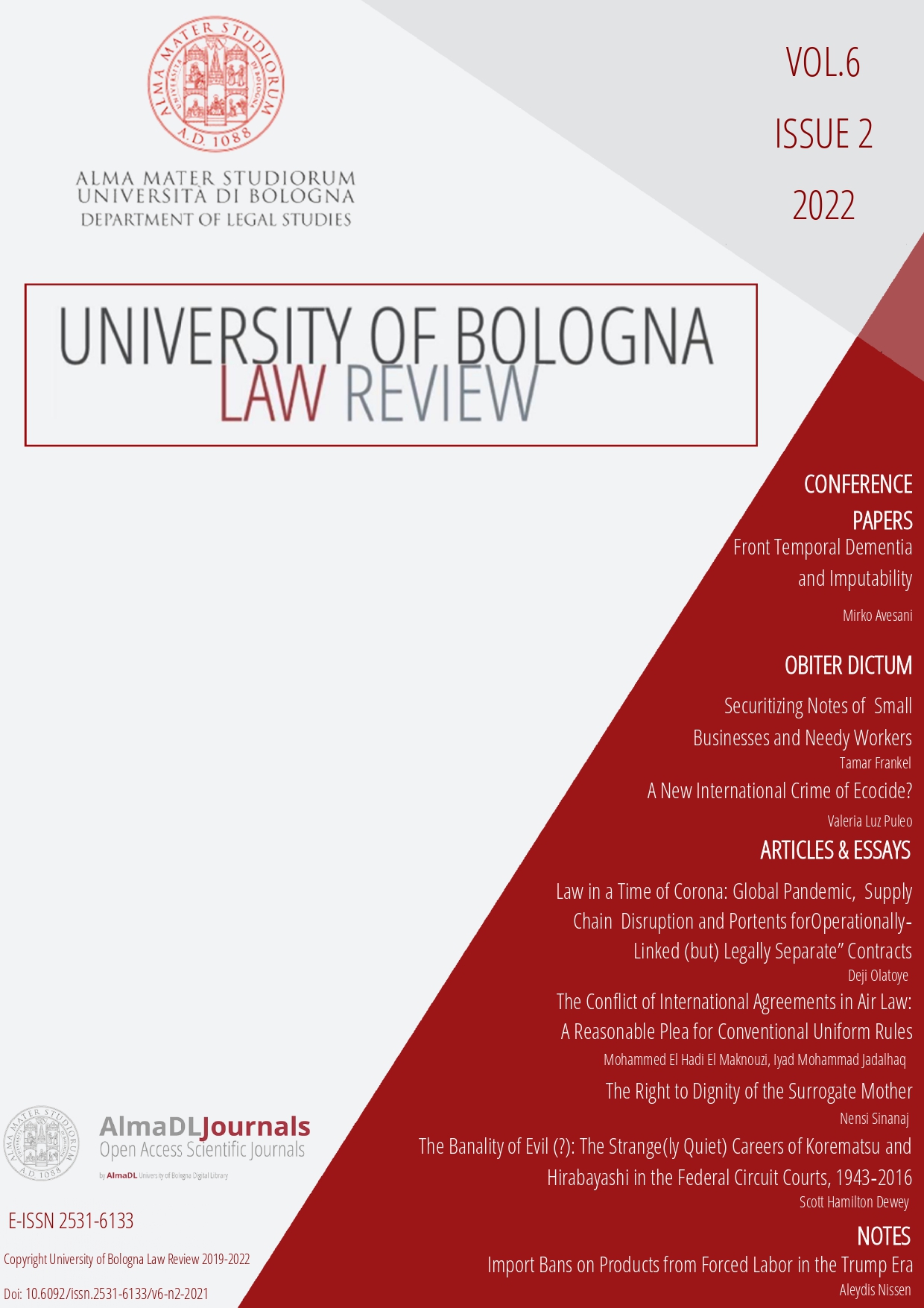 Downloads
How to Cite
Dewey, S. H. (2021). The Banality of Evil (?): The Strange(ly Quiet) Careers of Korematsu and Hirabayashi in the Federal Circuit Courts, 1943‐2016. University of Bologna Law Review, 6(2), 287–366. https://doi.org/10.6092/issn.2531-6133/14434
Section
Articles & Essays
License
Copyright (c) 2021 Scott Hamilton Dewey
This work is licensed under a Creative Commons Attribution 4.0 International License.