Criminal Copyright Infringement: Forms, Extent, and Prosecution in the United States
Keywords:
Copyright, Criminal Infringement, Streaming, Cyberlocker, Peer-to-Peer
Abstract
This article highlights the importance of copyright industries for the developed economies and argues that criminal copyright infringement is a widespread offense, producing major economic losses for stakeholders, negatively impacting creativity, and raising significant cybersecurity and rule of law concerns. The article explains why there is a need for criminal protection of copyright protection and outlines the U.S. framework.
In a comprehensive approach, based on a large corpus of data, consisting of cases brought to federal courts, in violation of Section 506 of Title 17 of the U.S. Code, and press releases and reports by law enforcement and industry groups, Section 3 describes the forms and extent of the phenomenon. Section 4 discusses essential aspects involved in the prosecution of these cases. Based on the number of cases brought to courts versus the criminal copyright infringing reports and estimates, the article concludes that this criminal phenomenon is significantly under-prosecuted and proposes a number of measures that could improve the criminal protection of copyrighted works.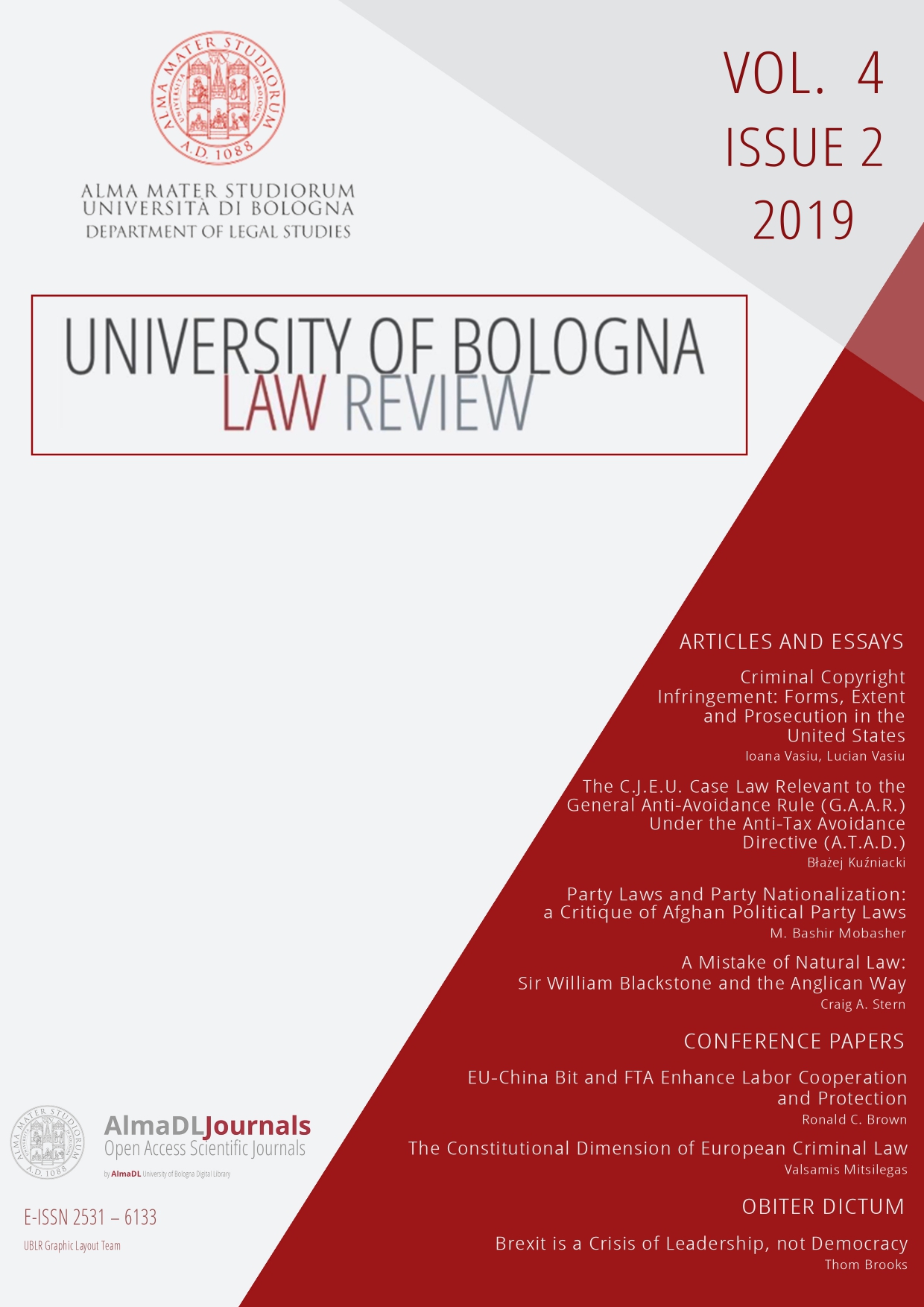 Downloads
How to Cite
Vasiu, I., & Vasiu, L. (2019). Criminal Copyright Infringement: Forms, Extent, and Prosecution in the United States. University of Bologna Law Review, 4(2), 229–260. https://doi.org/10.6092/issn.2531-6133/9782
Section
Articles & Essays
License
Copyright (c) 2019 Ioana Vasiu, Lucian Vasiu
The copyright of all the manuscripts on this journal belongs to the respective authors.
This journal is licensed under a Creative Commons Attribution 4.0 International License (full legal code).
See also our Open Access Policy.